After what has felt like two weeks, I am two months into my exchange and still feeling very fresh to everything. From food and family life to school and public transport, everything continues to interest me like it did when I first arrived. During the last month everything has started to take off. I have properly started school and have made some good Taiwanese friends,  climbed 18 kilometres up a mountain taken my first high speed rail and done a couple particularly painful acupuncture sessions. These only begin to scratch the surface of what I have done for the first time since my last blog.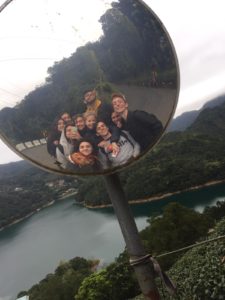 Some other exchange students and I overlooking Shihding Candao Lake
I continue to be be extremely happy with my host family. They are very helpful with my Chinese, take me to places I never would have discovered on my own and are probably the main reason why I am enjoying my exchange so much. Earlier in the month we took the high speed rail to the south of Taiwan to visit my mothers family. They speak traditional Taiwanese, a completely different language to Mandarin so I couldnt communicate with them. Whenever having meals with them my bowl is magically never empty, and I was bursting at the end of every meal. The south of Taiwan is very beautiful and it would be difficult not to enjoy being there. There is an abundance of sea food as it's nearly completely surrounded by coast, the beaches are beautiful and the weather is almost always clear and sunny. We visited the national aquarium and I saw a beluga whale for the first time. For some reason this was very exciting for me.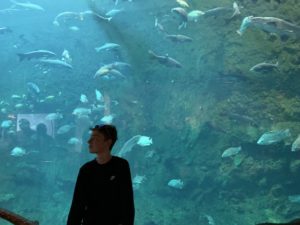 The national aquarium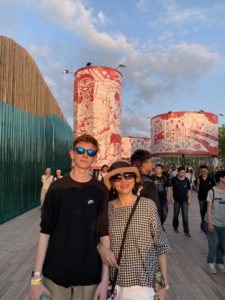 Café and I at the annual lantern festival
One of the best things about Taiwan so far is the public transport in Taipei. Everyone I know says it's one of the best or the best in the world, and compared to Sydney's transportation it's completely unreal. From the MRT to the publicly accessible "U Bikes" you can be on the other side of the City within an hour. The cost on different modes of transportation range from extremely cheap to free. The MRT or Metro is something we don't have in Sydney. They arrive at stations every 2-5 minutes and get between them even quicker. They may not be as big, but I would substitute them for the slow Australian trains any day. In Taiwan there is a system very similar to opal cards. You can use "easy cards" on every mode of transport as well as in convenience stores and sometimes even in clothing stores. Even after being here for only two months I don't think going back to the public transportation back home is going to be easy.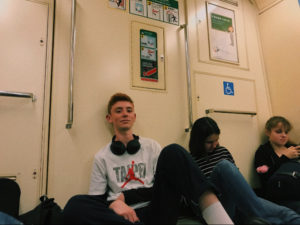 A ride home on the MRT
A couple weeks ago me and the other exchange students at my school joined a couple classes for the school graduation tour. During this trip we traveled around the whole island and I made some really good friends. Every day we would get up early and begin jam packed days of sight seeing and exploration, by night staying in resorts and fancy hotels. It took four days to get around the island and not a minute of one of those days was wasted. We started our first night in Taichung, making our way down to kanting then coming back up the other side. My highlight was easily when we spent the day at the beach in kanting playing beach sports and swimming, followed by free time at a night market during the evening.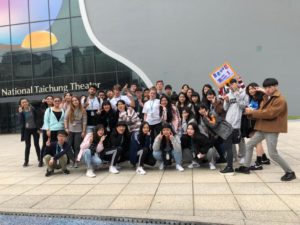 Classmates in front of the Taichung theatre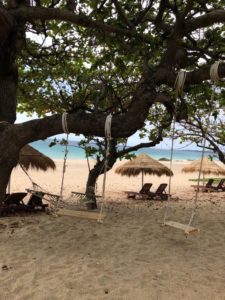 The beach in Kanting
My Chinese lessons are now fully underway and everything seems to be going well. I am in a class with only one other girl from New Zealand, so we are basically being privately tutored. I think this will mean we will get through a lot of content fast and with greater understanding. In the lessons we have been going through the Chinese alphabet and moved through basic characters, slowly making scentences out of them. It sounds basic, but when learning a language so different to English it's like going back to kindergarten. My host mum says my Chinese is very good for the time I've been here, even though I'm still getting a hang of the basics. Hopefully she's not just being nice…
For the time I've spent in Taiwan so far I think I have done more new things than I could have done in a year in my normal Sydney life. I traveled from Taipei to Kanting (the north to the south of the island) in just an hour and a half via high speed rail, a usual 7 hour car trip! I started violin lessons with one of the most famous players in Taiwan! I got beaten in basketball by an 80 year old ex general. If you told me I'd be doing this in a year, I'd have a good laugh.