I am now one month into my exchange in Taipei, Taiwan. So far life has been non stop and one thing is for sure; the Taiwanese do not mess around. It already seems like it's going too fast. My exchange so far has been packed with events non stop. My first week was a settling week for me, though I didn't have a spare moment. Every day we would go to my host mothers coffee shop early, get a meal and zip around Taipei doing errands and seeing places of cultural significance (eg. the night markets are one of her favourites). For my time in taiwan I haven't visited one big tourist attraction with her. It is still a bit of a challenge to organise things, as her English is at a pretty low level but I reckon this will have a very productive long term benefit.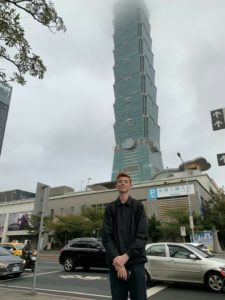 Taipei 101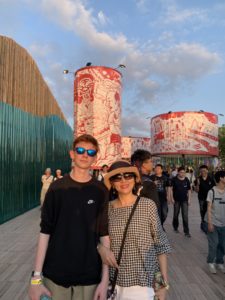 My first host mother, Café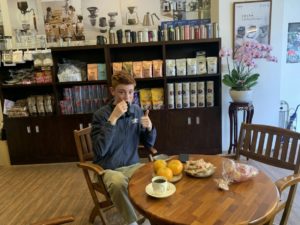 The coffee shop
After one week of being in Taipei, I went straight back to travelling. For Chinese New Year, the biggest celebration in Taiwan, my family went to Japan for the holiday. This meant I would be travelling around Taiwan with my second host family, another Italian exchange student and some rotarians from my club. We traveled to just about every major city around the Island. We got a dozen photos with just about everything from gigantic temples to maple trees. This is the Taiwanese way. Take a photo with it, even if it's nothing. We set off fireworks on the beach in Taitung as well as the streets in Yilan. They are very popular, especially around Chinese New Year, and best of all legal for backyard use.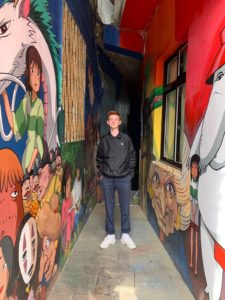 Street art in Yilan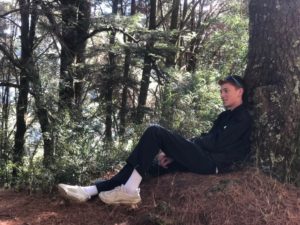 Forest on Xueshan Mountain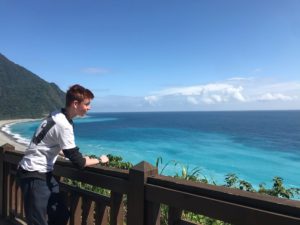 East Taiwan coast
Based on the eating habits so far I believe that 10kg is the bare minimum weight I will be gaining this year. In Taiwanese culture it is disrespectful to not finish your meal, and when being given a couple bowls of broth and noodles as well as a dozen dumplings to eat at  just about every meal I'm left feeling extremely full at all times. I have gained 2 kilos already and I'm not complaining. I share my host mother's thoughts that I need the weight and it will make me leave Taiwan "big and strong". I have been quite out of my comfort zone with the food as there is more much more to traditional Chinese than just dumplings and noodles. I've been particularly apprehensive about trying century eggs and pigs foot and after trying both of them I don't think I would go there again. Beside from these I have tried so many foods that I would never even known to exist and in almost every case I have liked it. Some of this food is extremely unusual. I think it's just the thought of what the food actually is that puts me off, rather than the actual taste.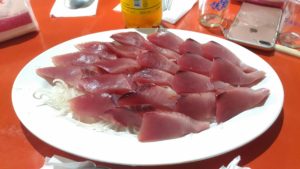 Delicious sashimi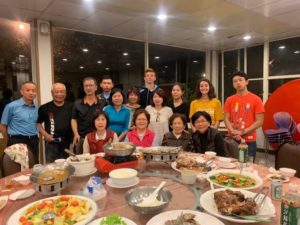 Family meal
I recently started school and have now done 5 days. The other exchange students and I do not understand a thing being taught and it is pretty challenging to make friends. Luckily basketball is one of the biggest sports in Taiwan as well as my favourite sport. It is an easy way to make friends even though at this point my Chinese isn't conversational. I've also made friends with some of my family friends children. They all seem very cool.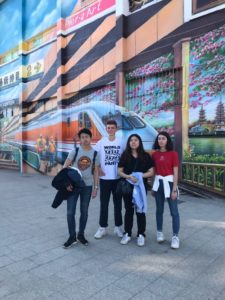 Friends and street art in Hualien 
What I can say from my exchange so far is I am lucky to be in such a good situation, in such a contrasting place. It seems like so much has happened already but I have a long way to go. One thing is for sure. I definetly wont be eating pigs feet again.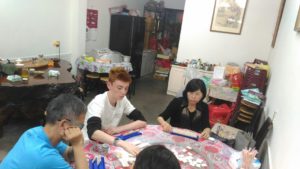 Games with the family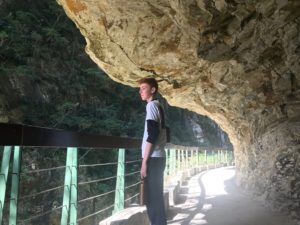 Taroko National Park